Posted by EverBlock on Oct 8th 2020
The Bergen County Board of Chosen Freeholders has awarded EverBlock Systems, LLC. the Certificate of Commendation honoring EverBlock's civic contribution in constructing the Bergen New Bridge Medical Center Alternate Care Facility during critical times for COVID relief and recovery.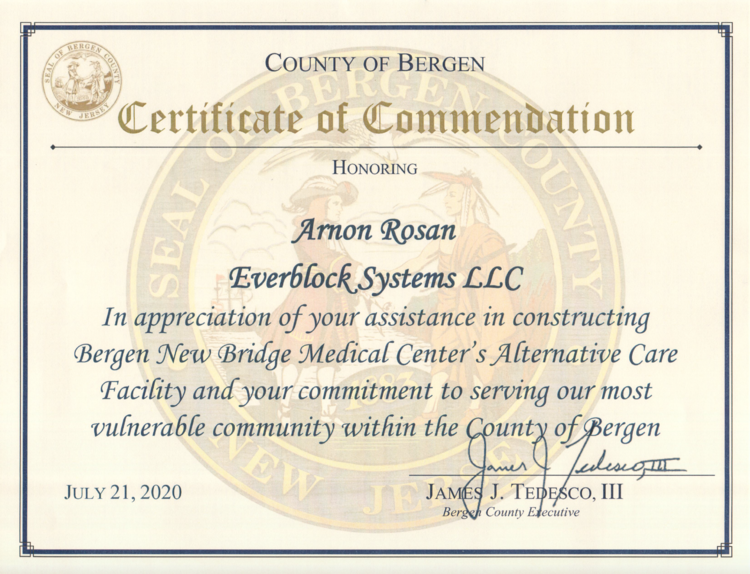 EverBlock Systems, LLC., the leading manufacturer and provider of modular building systems worked with the New Jersey Governor Murphy's response team to provide the rapid installation of 130+ beds and patient pods at a one-time gymnasium in New Bridge Medical Center. Converting a gymnasium basketball court to a temporary hospital for the treatment and recovery of patients of coronavirus.
An additional 100+ bed acute care tent facility was built outdoors by the U.S. Army Corp of Engineers for the influx of patients from coronavirus pandemic.

Officials said the sites are needed not just to help patients now but as insurance, in case the virus comes back in the fall or winter, which experts say is highly possible.

Thousands of EverPanel modular sanitary divider walls were used to mitigate the spread of the coronavirus (COVID-19) and provide a safe and easily sanitized space for emergency personnel and patients in recovery.

EverBlock responded to the call to deploy equipment within a few days, enabling the installation teams to quickly build sleeping pods and care facilities in record time.
EverBlock Systems. LLC, a New York based company manufactures life-size modular building blocks and modular sanitary divider walls to segregate populations, such as for homeless shelters, temporary hospital installations, disaster relief facilities, and for disease spread mitigation.