Posted by EverBlock on May 28th 2021
EverBlock Wins Best Pivot Award by Exhibitor Magazine!
EverBlock is honored to receive the Best Pivot Award for 2020 by Exhibitor Magazine for our efforts in COVID Relief and Aid!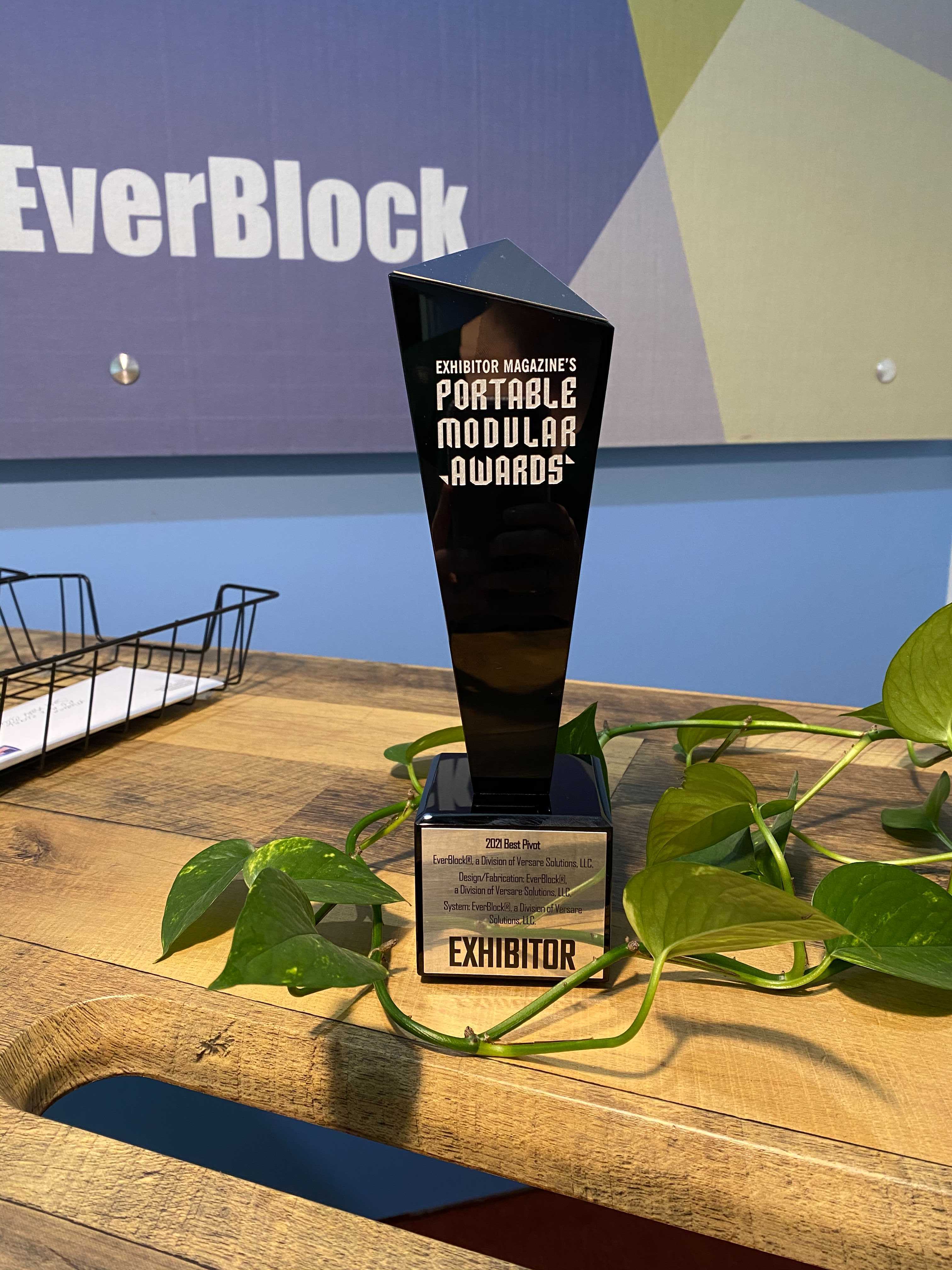 EverBlock responded to the call to deploy equipment and personnel within a few days, enabling the EverBlock team to set up over 2,000 sleeping pods in record time using its unique modular wall panels and building block system. Sleeping pods, isolation units, nursing stations, bed areas, testing sites, vaccination stations and more were built throughout several convention centers and tented facilities using modular and durable building blocks, as well as EverPanel modular sanitary divider walls to mitigate the spread of the Coronavirus (COVID-19).

---
EXHIBITOR magazine is proud to announce the following winners in its eighth annual Portable/Modular Awards, which honor design excellence in portable, modular, and system exhibits. The competition features 10 categories along with two special awards: the Zeigler Award, which is given to the project earning the highest score regardless of category, and the People's Choice Award, chosen by popular vote on www.ExhibitorOnline.com.
The competition was judged by a panel of marketing and design experts, and winners were announced online on April 8, 2021. Winners will be featured in EXHIBITOR magazine's June/July 2021 issue and will receive a custom trophy.
Best Pivot
Exhibitor: EverBlock, a division of Versare Solutions LLC
Design/Fabrication: EverBlock, a division of Versare Solutions LLC
System: EverBlock, a division of Versare Solutions LLC
About Exhibitor Media Group
The leader in trade show and corporate event marketing education, Exhibitor Media Group publishes the award-winning EXHIBITOR magazine, a monthly publication featuring best practices in trade show marketing. EXHIBITOR's learning events include: EXHIBITORLIVE, Best Practices in Trade Shows and Events; EXHIBITORFastTrak accelerated learning conferences; and EXHIBITOR eTrak, professional online learning. Exhibitor Media Group is also the founder and sponsor of CTSM (Certified Trade Show Marketer), the industry's only university-affiliated professional certification program. Learn more at www.ExhibitorOnline.com.
EXHIBITOR is a registered trademark, and EXHIBITORLIVE, EXHIBITORFastTrak, and EXHIBITOR eTrak, are trademarks of Exhibitor Publications, Inc. in the USA and other countries. All company and/or product names may be trade names, trademarks and/or registered trademarks of the respective owners with which they are associated.
To view the full list of award winners, click here.