Posted by EverBlock on May 17th 2021
Make a Space for Creativity! 22 Awesome Playroom Ideas for Kids
When we were kids, whether we realized it or not, there was always something we wished our playrooms could look like. Maybe it was a Disney-inspired room with a slide in the corner and a play kitchen. Or maybe it was one of those massive train sets and writable walls to draw anything that came to your imagination.
While that was likely never realistic, there's no reason your children's playroom shouldn't spark creativity and wonder. To help you get started, we've gathered a list of 22 awesome playroom ideas for kids so whether you're living in Toronto, CA or Dallas, TX, your home can cater to your kids' everyday enjoyment.
A great playroom is one that is simply playful. It fosters creativity through stations that a child can shift between. For us, a craft corner with an array of art supplies available is the most used spot. Use furniture pieces with drawers and extra cubby spots for easy organizing. Make your room colorful or add interest to a wall with fun decals; don't forget to leave extra floor space for imaginative play and fort building. – Alicia Stemper, Owner & Maker, Wondermint Goods
A playroom should be a space that fosters creativity and invites kids to use their imagination. Always have a "reading area", keep "pre-made" toys to a minimum and stock-up on items like legos, magnatiles, clay, crayons, paper, paints, and essentially anything that allows your child to build and create their own ideas. I also recommend designing a "writing wall" area with a white board and chalkboard paint adding a bucket of dry erase markers and colored chalk to inspire them even more. – Dr. Bethany Cook, PsyD, MT-BC ("Dr. B"), Dr. Bethany Cook
Highlight your children's finds. Give your nature-loving child a special place to display their collection of treasures. A simple floating shelf is a great way to showcase the rocks, feathers, pine cones, and sticks that make it home after walks. Add a small table and chair with a magnifying glass, nature-themed books, and a sketchbook and pencil set to encourage more discovery of the natural world. – Cinthia Drake, Children's House Montessori School
Intentionally design a playroom for kids. A playroom that inspires the utmost creativity in a child is one that's intentionally designed to give them the freedom to choose toys and supplies without needing to ask an adult for help. This usually means low shelves or cabinets with plenty of storage so that children have easy access to everything they need. This removes any limitations to children's play choices and blossoming imaginations and has the added benefit of making cleanup a breeze for children and adults alike. – Lauren Magee, Director of Architecture and Environmental Design for Guidecraft
Classic toy sets are always great. Kitchen sets, pots and pans, and play food are classic imaginative-play staples for any playroom. Children love imitating family rituals by collecting, "preparing" and presenting food. Add a shopping cart to your collection and they can grocery shop before they cook – endless fun. – Purple Monkey Playroom
Less can actually be more in the playroom. Leave as much open space as you can so your kiddos have room to play, jump around, create, and do what they do best. And when choosing a rug for the space, make sure it's something with a low pile – it's much better for building blocks, train tracks, and figurines. – grOH! Playrooms
Have inspirational art in the space. In making a creative space for a kids playroom, I think it's important to have inspirational pieces around the room to encourage creativity. Having art on the walls that show children or animals going on adventures will spark imaginations and inspire them to have their own adventures, whether real or make-believe. – Carrie Tomaschko, Sweet Melody Designs
Decorate your walls with decals. SimpleStencil™ wall decals are an easy and affordable way to add creative finishing touch to playroom walls. Choose from our large selection of colorful & creative ideas or design your own wall art online. Because they are 100% removable, you can easily remove or change them as your child grows to express their personality and style. Browse our playroom collection here. – SimpleStencil
Embrace playful wallpaper. I love to include playful wallpaper, custom built-ins to organize and stow away toys. – Ashley Martin, Ashley Martin Home
Chalk it up to creativity. Use chalkboard paint to create a space for creativity to flow in the playroom. You can paint a whole wall, the back of a door, or the side of a prominent piece of playroom furniture. Just be sure to have the convo with the kiddos that not all walls are a canvas. – Kaz Weida, A Sweet Little Life
Stick to a few tried-and-true toys. Because research shows that children with fewer toys have more creativity and imagination, I recommend a minimalist approach to toys. My favorite three recommendations for toys are playsilks, wooden animal figures, and age-appropriate musical instruments. A personal example is when my children would create elaborate landscapes using various playsilks colors such as grass, oceans, mountains, and their wooden animals as characters in their landscape. – Giselle Baumet, The Parenting Alchemy
Learn the art of toy rotation. Separate your children's toys in bins, and depending on the amount of toys they have, rotate the bins weekly or bi-weekly. Make sure to put away the current toys before introducing the new bin. This guarantees a fresh supply of "new" toys that haven't been played with for a while. – Toyventine
Simplicity, organization, and good accessible storage is key. Too many toys in a space can be overwhelming, whereas fewer, open-ended toys can be used in a variety of ways, and help stimulate a child's imagination. A muted, thoughtful color pallet brings a tranquil vibe to the space. A less conventional and often overlooked approach to playrooms, is to include items that promote physical activity. A swing, indoor slide, or even a climbing wall will give little ones that much needed movement when they can't be outside. PIKLER makes great, open-ended climbing toys for littles. – Sara Ardeleano, Sea Urchin Studio
Make sure that everything is accessible to your child independently. You can sit on the floor to see what your child will see at their height. Be sure they can reach everything they need without having to come and find you to help them because accessibility is the key to a successful playroom that will encourage loads of independent, creative play. – Little Lifelong Learners
Keep cleanup quick with easy storage. We suggest clearly labeling each bin of items and using a photograph as well to show what is inside. Making for a quick and easy clean up at the end of the day. – Lynor Johnson, Executive Director Fox Valley Montessori School
Toy rotation is a game changer in any playroom. Our Monti Kids Learning Team recommends presenting your child with 6-8 toys that meet their developmental needs on a low shelf where they can access the materials independently. Simply observe your child as they play, finding a time once a week to rotate out the toys they're not engaging with, while adding new additions or old favorites to reignite their interest. – Monti Kids
Integrate sensory, multifunctional objects into the decor– silk scarves can be used as a layer in dress-up, and to create tents and flags. Blocks are beloved at all ages, used for everything from sorting shapes to creating castles. An engaged mind evokes imagination in a child and you will be surprised what twinkle lights and an easy-to-reach bookshelf will help your child dream up. – Karina Grose, SABi iNTERIORS
Color is key. When creating a playroom that is both fun and functional, we say, embrace all the color that comes with your child's toys and books and make the room a "happy place". We also love the idea of finding something specific that your child is drawn to like pretend play or reading to create a special interest area in the room. Reading nooks, dress-up corners and even climbing walls have become popular additions to the playroom. Lastly, don't forget to invest and plan for proper storage so that your child can learn that when everything has a place to be stored, the space can be organized and calm at the end of each day. – Pam Ginocchio, Project Nursery co-founder
Building blocks can be used in a variety of ways. EverBlock is a cost-effective way to build the perfect playroom for kids, while promoting hands-on learning in creative ways. Life-size modular building blocks can be used to build playroom furniture, bookshelves, free-play spaces, illuminated forts and a tool for expanding educational opportunities through STEM principles (Science, Technology, Engineering, Math). EverBlock's wide array of vibrant building block colors and sizes allow for unlimited creativity and design options; we designed our modular block system to be 100% reusable and reconfigurable – making EverBlock a "Green Building Tool". Build, play and design using jumbo building blocks! – EverBlock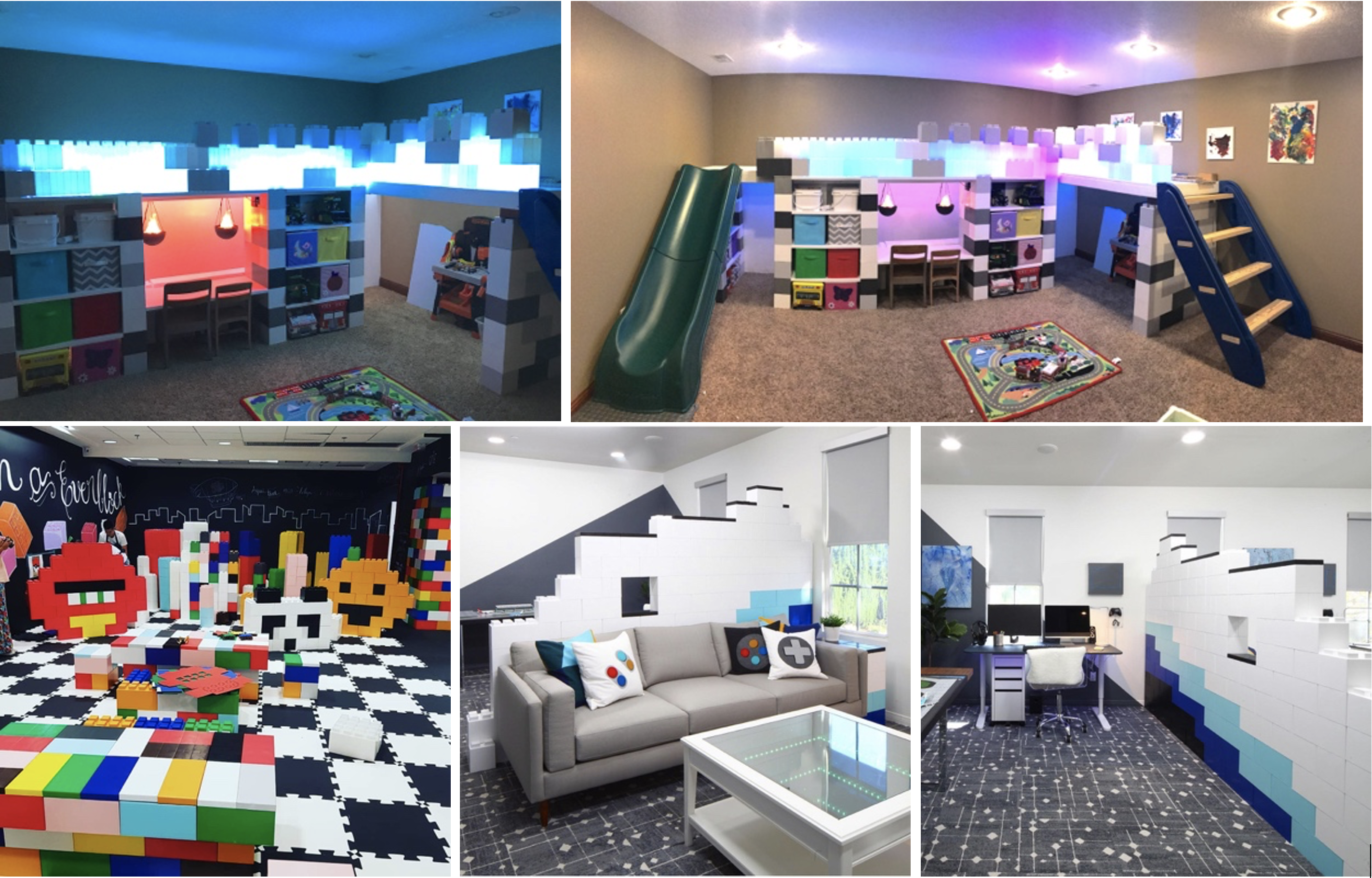 Embrace your child's unique interests. Your little one's playroom should be tailored to their unique personality and interests. Include materials that will help your child learn about the world around them. We recommend an open, clutter free space with child-sized furniture and shelves lined with hands on Montessori materials that encourage independence and allow for exploration. – Imani Clarke, Operations Manager for Seneca Village Montessori School
Bring in a hanging yoga swing. My most valuable asset in creating a fun successful playroom for my 2 teenagers on the Autism spectrum is our hanging yoga swing. My often manic daughter will swing for hours and burn off excess energy right before bedtime for a great night sleep. My son enjoys the coffee snug feel and I have certainly enjoyed helping them get exercise in spite of their physical limitations. – Colleen Spengler, Middle Kids Toybox
Think "non-toxic" and "eco-friendly" Because you'd be surprised how many harmful aliens are lurking around inside your home. But it's an easy fix – just try to use all natural materials, like solid wood furniture (instead of MDF), cotton and wool textiles (instead of poly fibers), certified foams, and real plants. Consider all of the elements of the room, the Play Tents, Rugs, Cushions, Blankets, Bookcase, etc., then find a natural alternative. Beware that foam is a major hiding spot for dangerous chemicals. So, intentionally, seek out the 'certified' non-toxic foams for cushions, play chairs and play mats, and know that eco-friendly and non-toxic are not the same thing. Watch out for unlabeled paints, finishes and "treatments" – this is secret code for: chemicals were added. If the product description doesn't clearly say what it's made of, or where it came from – or doesn't mention their sustainable practices, or warranties, etc. – then it's not our friend. Finally, go ahead and add a few plants and musical items to the room. Plants are not only beautiful decor, and great learning lessons for kiddos on how to keep a plant alive, but they also freshen the air naturally. Plus, music is just good for the soul (and the plants). – Sarah Wilson, Huckleberry Kids Rooms
Originally published by Redfin: https://www.redfin.com/blog/playroom-ideas-for-ki...