Non-profits are always in search of creative ways to fundraise. EverBlock, a Versare company, was proud to support several Habitat for Humanity campaigns, including a more recent one in Berks County Pennsylvania.
Looking for a new approach for your next fundraiser? Let this collaboration between Habitat for Humanity of Berks County (Habitat Berks), Reading Science Center, and the architectural team at Muhlenberg Greene Architects (MG Architects) inspire you.
Reading Science Center was approached by Habitat Berks with a unique idea for a joint partnership that would benefit both organizations. Habitat Berks had been impressed with fundraisers by Habitat branches in Denmark and Canada who built a prototypical house, brick by brick. Those campaigns were very well received, generating interest and excitement in their local communities.
MG Architects was tapped as a sponsor partner, lending their design expertise to concept and determine how to execute a unique structure for the campaign. The firm was a natural choice due to its expertise and 100-year history of working and giving back to the communities in Berks County and surrounding areas. Their legacy includes having designed and contributed to the historical architectural style of Reading, PA, the county seat.
Habitat Berks and Reading Science Center branded their campaign "Building Up" to highlight the connection between stable housing, strong neighborhoods, and education. To that end, they also partnered with Alvernia University and their Engineering program, whose students would participate in the actual construction of the structure that MG Architects would design.
Designing a fun, interactive campaign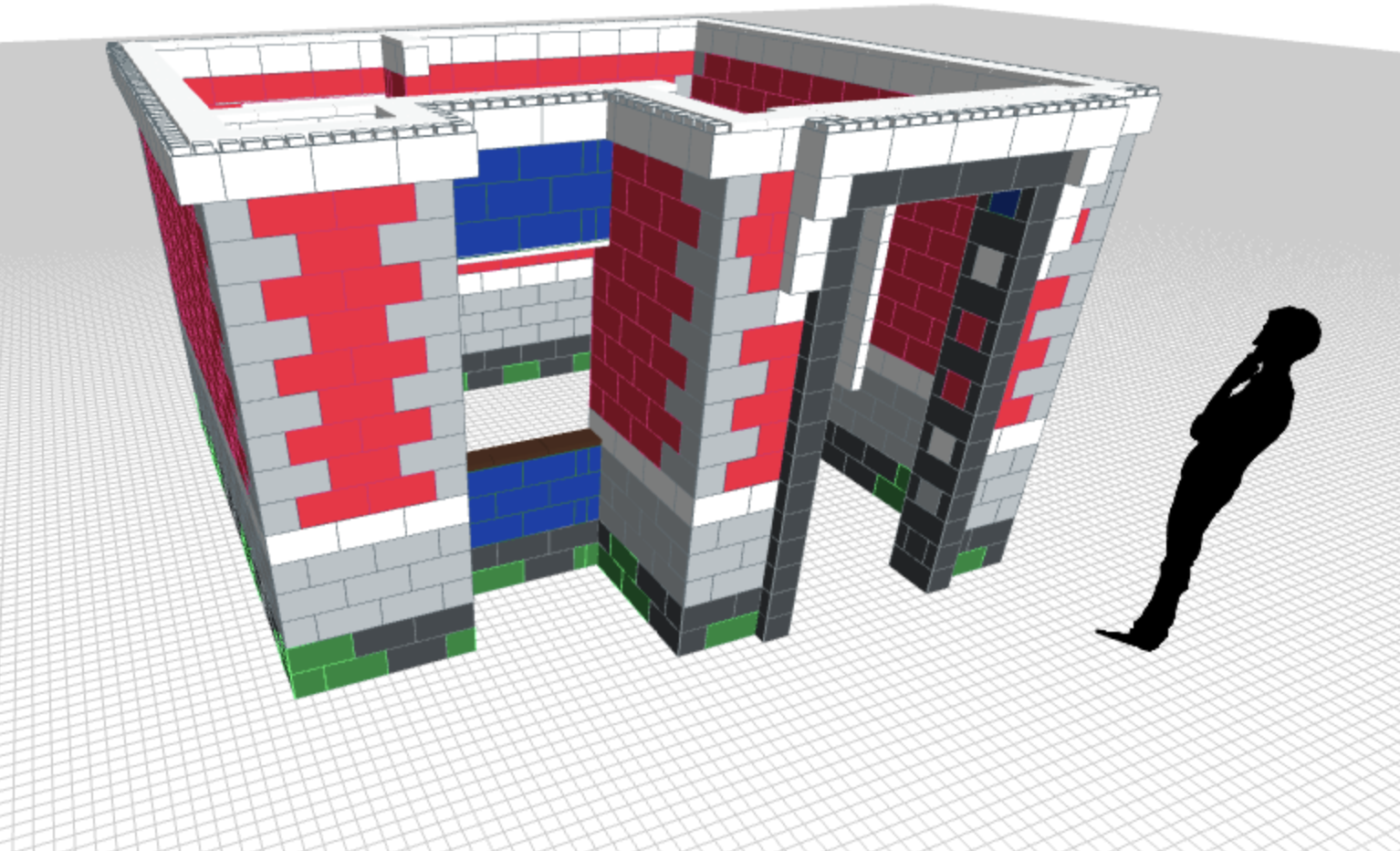 The MG team researched the appropriate product for this creative endeavor and found EverBlock – giant modular building blocks 10 times the size of Lego® bricks. After reviewing the products and pricing, they contacted Benjamin MacKrell, Director of Sales at EverBlock Systems. Ben provided the design team with an EverBlock sample set for review and they loved the scale, range of colors available, ease of use and lightweight quality.
MG's designer, Brad Blankenbiller, used the EverBlock3D Virtual Builder tool to design a structure that mimicked the historical style of rowhouses in Reading. The design concept was presented to Habitat Berks and the Reading Science Center along with sample blocks, the budget and space requirements. After some minor adjustments and incorporating the colors of both organizations, the team was ready to move forward.
With an approved design and budget, 1,100 EverBlocks were ordered to create the replica row home and delivered to the higher education partner, Alvernia University. The Engineering School students at Alvernia would build the rowhouse under the mentorship of MG Architects as part of their annual service project.
Using EverBlocks to build community involvement

Using the EverBlock building blocks to "build up" a one-of-a-kind home helped express the deeper message that non-profits, schools, businesses and community members can all work together to solidify a foundation for future generations. Building the house would demonstrate the important connection between educational success and a stable living environment. EverBlock was the perfect fit to showcase the mathematical and science skills needed to enhance education.
A kick-off cocktail event was hosted at Alvernia University in the Engineering Building, where the students used the detailed instructions provided by EverBlock to build the structure part-way. This allowed community members attending the event to see the structure, walk around and in it, providing a focal point for the link between stable housing and education.
The campaign also leveraged media outreach, asking the community to help purchase the blocks to build the rowhouse. It was important to the two fundraiser partners that the fundraiser be accessible to anyone in the community, and they set a price of $50 for each block to be approachable to a wider audience.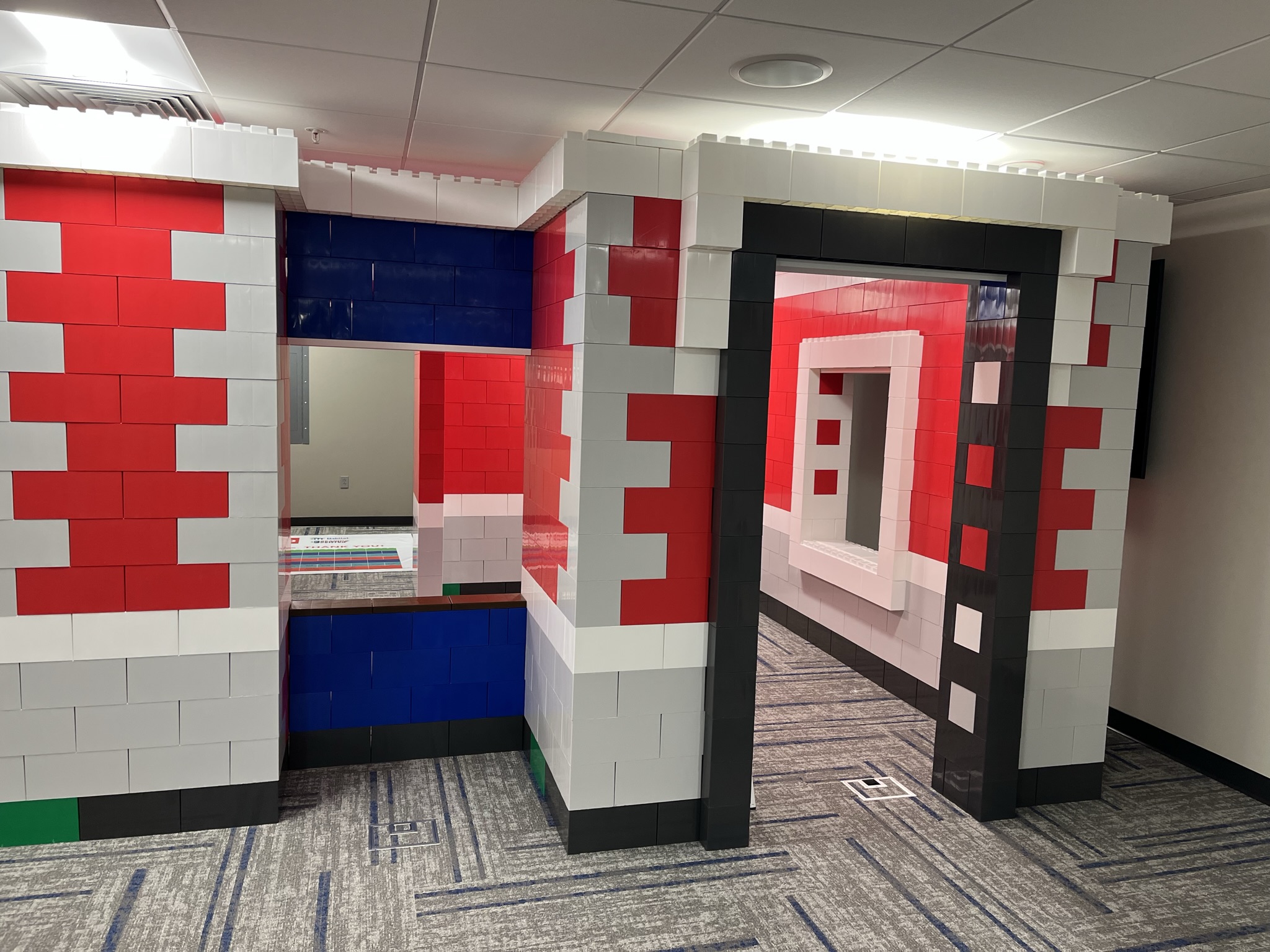 During Engineering Week, Alvernia University Engineering students completed the full build and the EverBlock row home was on display for the community to experience for several months. Following the close of the campaign, the colorful Everblock rowhouse was transitioned to the Reading Science Center where students will have another STEM-friendly tool for interactive exploration and learning.
"Our team was delighted to be part of this project. It allowed us to highlight our design skills in a fun way while getting closer to our community partners and clients," explained Suzanne Cody, Associate, Director of Business Development, MG Architects. "EverBlocks were a great product to work with and show off, and we are certain they will be enjoyed at the Reading Science Center for years to come."
Do you want to put more fun in your fundraiser? Spice up and create a memorable event? Ignite learning with interactive play and problem-solving? No matter your need, Everblock has tools to help you bring creative and engaging ideas to life.