Posted by EverBlock on Feb 11th 2021
Over the past year, remote work has become the norm for millions of Americans due to COVID-19. What we initially thought would be a temporary solution has now become permanent for many employees, leading to an increased need for dedicated office space at home.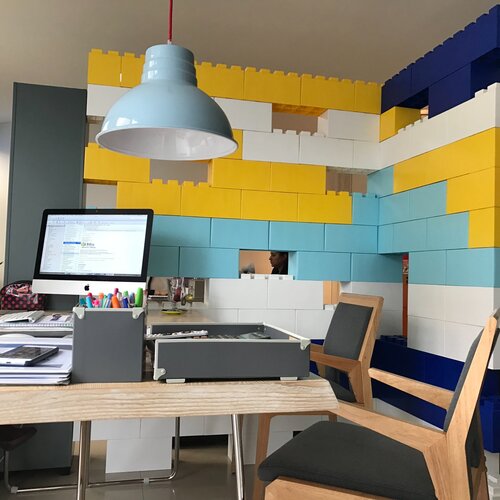 For those who already had a spare room, this has meant simply adding some office furniture and setting up shop. But for those in studio apartments or smaller homes it has meant making do at the dining room table or in a corner of the living room—hardly a long-term solution! If you find yourself in this position, EverBlock and EverPanel products could be just what you need to create a separate space to focus on your work. Adding reusable and reconfigurable walls, dividers or partitions to create temporary spaces is a snap with our easy-to-set up modular building blocks and wall panels.
HAVING A DESIGNATED OFFICE SPACE REDUCES DISTRACTIONS
Even if you live alone, distractions abound when you work from home. This is especially true if you don't have a separate space to work in. As soon as you sit down and try to focus, you suddenly notice everything else that needs to be done: the laundry, the dishes, that home improvement project you've been putting off...anything except what you actually need to work on.
And if you're sharing space with a spouse who is also working from home or kids who are doing remote/distance learning, it can be difficult for anyone to stay on task. Having a dedicated office space is key to blocking distractions. By adding a temporary wall or divider to create a separate work area, you will be better able to stay focused and productive all day long.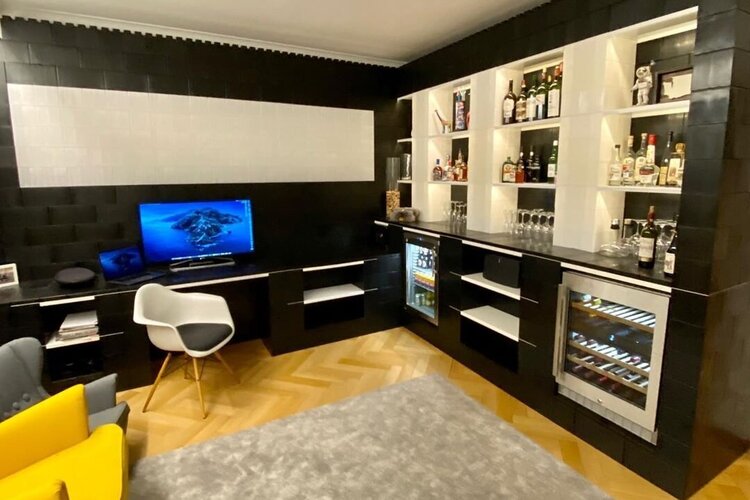 EVERPANEL INTERLOCKING WALL PANELS HELP YOU DIVIDE SPACE QUICKLY AND EASILY
With EverPanel, you can quickly install a free-standing dividing wall to partition your workspace off from the rest of your living area. Or, build a new room within your space, complete with a door! EverPanel installs quickly using our proprietary lug connection system, so you can set it up without so much as a screwdriver—leaving zero mess behind.

Customize the layout of your walls by alternating, rotating, or stacking multiple panels as needed. You can even run power or networking cables within and between the panels! Perfect for a home office.
And while you do have the option to attach EverPanel to walls, floors, or ceilings, it's not necessary. EverPanel is free-standing and self-supporting, so it does not need to be connected to a permanent wall. Each panel is made of two rigid fiberglass composite panels that are adhered to an interior framing system to form a lightweight yet structurally-sound panel.
EverPanels can also be easily dismantled and reconfigured as your needs change. So if you use them to build your home workspace now, but end up back at the office in the future, you can reconfigure your EverPanels to create something new.
BUILD FUN INTO YOUR WALLS AND DIVIDERS WITH EVERBLOCK BUILDING BLOCKS
Building walls and dividers with EverBlock is just as much fun as playing with those well-known plastic building blocks we had when we were young. If you loved constructing imaginative castles and spaceships with brightly-colored blocks as a kid, you'll love building your home office with EverBlock.
EverBlock modular building blocks make it quick and easy to build just about anything. By stacking these universal blocks, you can create nearly any shape, size or pattern you can imagine. Even better? No tools are needed, and you won't have the mess that comes with traditional construction.
The blocks are easily reconfigured, moved, and reassembled for multiple uses as well. Complement your designs even further by adding EverBlock shelving units, a brushed stainless steel desktop, doorway lintels, window openings, or columns. Or add an accordion door for more privacy. Want to get an idea of what your new home office could look like? Check out our 3D Virtual Builder here!
Contact us anytime if you require design assistance.
Walls and Dividers to Suit Any Space and Any Decor

With a wide palette of colors available for the EverBlock system, you're sure to find something that enhances your space. Mix and match colors to create beautiful designs and unique wall dividers or decor.
EverPanel can be branded with adhesive-backed wallpaper, allowing you to create a truly customized look in your space. Think color, texture, and patterns galore!
Have a unique or complex design in mind? Both EverBlock and EverPanel offer an endless array of uses individually, but they can also be combined with one another for even more creative options. Click here for design inspiration and to see EverBlock and EverPanel in action!

But no matter the colors or designs you choose, adding reusable and reconfigurable walls to create temporary spaces in your home or apartment can be a great way to get the dedicated office space you need when you work from home. Find more information about EverBlock, EverPanel, and our entire line of amazing products here. And don't hesitate to reach out with questions—we look forward to working with you!